Escaping the Strange Loop



'Escaping the Strange Loop' is a participatory interactive game experience that showcases diverse stories about the role of energy - specifically fusion energy - in near and far futures by exploring its unpredictable and complex impacts on real life problems. In the research and concept development processes we worked closely with physicists, economists and social scientists.

We used the scientific model of data-based predictions for what the future may hold. Based on these predictions, we made scenarios from 2010 to 2100 across varying degrees of environmental responsibility, energy technology investments and cooperation; underneath the experience lies a branching database with 81 scenarios. Participants learn about the kinds of futures they could create by making decisons throughout the game. These decisions influence the next set of scenarios as they move forward in time and in the physical installation.



Within each branch, stories are presented through videos, objects and sculptures. In this way, we transitioned from data in a 2D spreadsheet to experiences in a 3D space.


Participants navigate by walking their decision paths.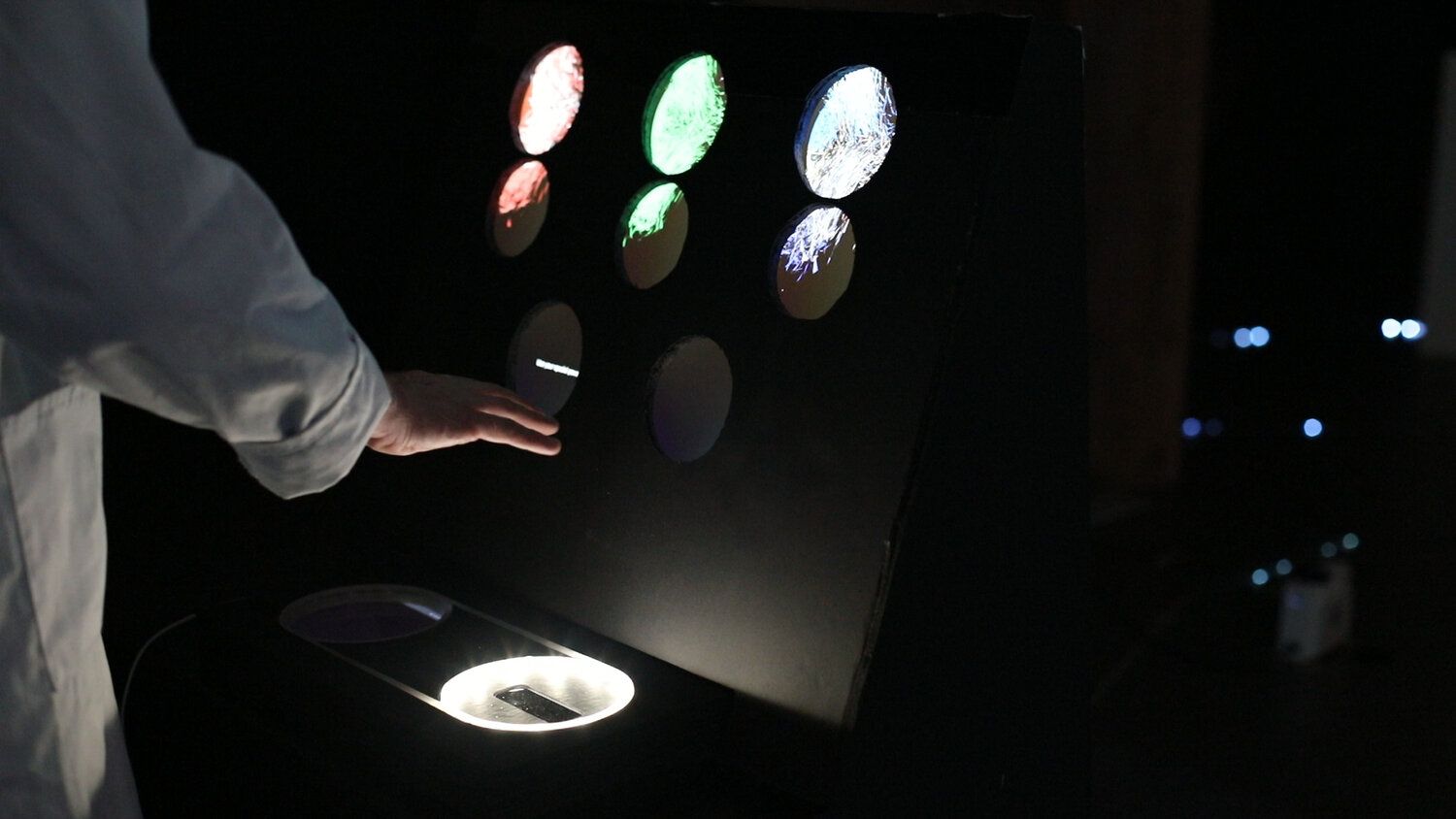 The decision-making station, where the participants choose which story they would like to support or follow. This influences what they will experience on their next loop.

The loops or "missions" hold different objects and stories. For example, in Mission 2, visitors take a look at the infrastructural changes that have happened in the world in 2080 because of their previous decision. Here they view different objects, artefacts that have become part of daily life. One of the infrastructural services they might experience is Migrational Services:
"Migrational Services help me get back home in a completely carbon free way, without disturbing other species which is really important to me. They sent me this kit to prepare for my travel - they automatically calculate the greenest options for me which means travel takes a long time. I've been waiting 3 months, but now it's less than a day until I can depart - the Humpback Whales have nearly finished migrating!"




We undertook the foundational research, conceptualisation, founding principles and working prototype. The project is part of a traveling exhibition highlighting the work of EUROfusion - a consortium of national fusion research institutes located in the European Union and Switzerland.

Date: 2018-2019
Details: Project website

Role: Co-principal investigator. Research, concept, writing, experience design and programming
Technologies: d3.js, node.js,web technologies, Arduino

Collaborators: Monika Seyfried, Joshua Walton, Cyrus Clarke, Raffaella Rovida, Calle Nordenskjöld, Peter Kuhberg
Partners: H2020 EUROfusion

Awards: Runner-up in Speculative Design, notables for Strategy & Research and Design for Social Impact in Core77 Design Awards 2020
Shortlisted for Optimizing in IXDA 2020